After soybeans, EU touts U.S. LNG imports to woo Trump on trade
Comments
By Reuters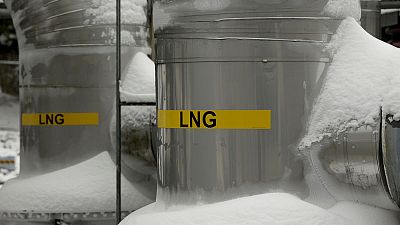 -
BRUSSELS (Reuters) – The European Union said it was delivering on a deal with U.S. President Donald Trump to buy more U.S. liquefied natural gas (LNG) on Thursday but called on Washington to do more to make its prices competitive.
In talks to urge Trump to drop hefty new tariffs last month, the EU's chief executive Jean-Claude Juncker agreed to work to increase imports of U.S. soybeans and LNG to the bloc.
The EU has long worked to diversify away from relying on Russia for almost 40 percent of its gas needs by developing LNG infrastructure to access other suppliers like the United States.
Whether U.S. LNG imports can win market share away from Russia, however, will depend on market forces, EU officials are quick to stress.
"The growing exports of U.S. liquefied natural gas, if priced competitively, could play an increasing and strategic role in EU gas supply," Juncker said in a statement.
"But the U.S. needs to play its role in doing away with red tape restrictions," he said, referring to U.S. rules that require regulatory approval for LNG exports to Europe.
Since the arrival of the first U.S. LNG supplies in 2016, cumulative imports to the bloc have reached 2.8 billion cubic metres, the EU said on Thursday.
In 2017, Europe accounted for more than 10 percent of total U.S. LNG exports, up from 5 percent in 2016, it said. Spain, France and Italy are the largest of nine EU member states purchasing U.S. gas.
The EU's decision to publish historic trade data is unusual – part of the bloc's drive to sway Trump by showing tariff-free trade flows can benefit the United States.
Earlier this month, the European Commission published data showing a surge in U.S. soybean imports so far this year as buyers responded to plunging prices after China largely stopped buying U.S. soybeans in a tit-for-tat trade row.
"Both sides have much to gain by working together," Juncker added.
Trump said in a Tweet last month that the EU would "be buying vast amounts of LNG", while Juncker said the EU would build more terminals to handle American LNG.
However, three-quarters of Europe's existing import facilities lie empty while demand for U.S. LNG on the continent remains limited.
The most lucrative markets for U.S. LNG are in South and Central America, India and the Far East, with Europe near the bottom of the pile given its relatively low prices and ample supplies of gas via pipelines from Russia and Norway.
(Reporting by Alissa de Carbonnel; Editing by Adrian Croft)