Deutsche manager tells Euribor trial seeking preferential rates was 'fine'
Comments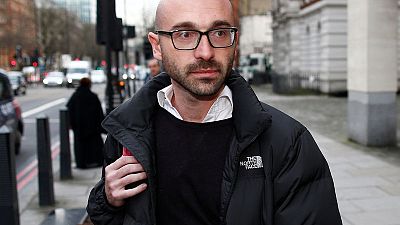 By Kirstin Ridley
LONDON (Reuters) – A Deutsche Bank <DBKGn.DE> manager, accused of conspiring to rig benchmark Euribor interest rates, told a London criminal trial on Tuesday that he saw nothing wrong with traders seeking preferential rates 13 years ago.
Achim Kraemer, a 53-year-old German, told Southwark Crown Court that his job did not involve oversight of the bank's daily routine of picking Euribor (euro interbank offered rate) estimates, which are used to help calculate a global reference rate for financial contracts worldwide.
However, he told the jury he had been aware that traders had asked submitters for rates that would help their trading books at the time.
The Serious Fraud Office prosecutor alleges bankers deliberately disregarded rules that Euribor should not be set with an eye on commercial gain, that they dishonestly plotted for rates to be false or misleading and risked prejudicing the economic interest of others.
But Kraemer, the former head of money markets and derivatives in Frankfurt – who has become global head of liquidity and transfer pricing after a 22-year career at the German bank – said he never consciously tolerated improper or dishonest behaviour.
His lawyer, Duncan Penny, asked him what he thought about traders asking rate submitters for preferential rates.
"I thought it was fine," Kraemer said. He added that rate submitters were responsible for deciding whether to take such requests into consideration. "It wasn't part of my job…," he said. "I didn't pay much attention to it."
Euribor, like its Libor (London interbank offered rate) cousin, is an average interest rate calculated after submitters at a panel of major banks report their estimated costs of borrowing from each other over differing borrowing periods to an administrator.
Kraemer, senior British submitter Colin Bermingham, Sisse Bohart, a Dane who reported to Bermingham, Italian-born former trader Carlo Palombo and former senior French trader Philippe Moryoussef deny conspiracy to defraud by dishonestly manipulating Euribor between 2005 and 2009.
The group, aged between 39 and 61, is the first to be charged in relation to Brussels-based Euribor, a benchmark for rates on trillions of financial contracts and loans worldwide.
Kraemer said he had only once met former Barclays <BARC.L> trader and co-defendant Moryoussef, who is being tried in absentia, on a rare appearance by the Frenchman at a trade association meeting to improve trading standards.
"He … never seemed interested in doing work with the industry group," Kraemer said. "I was starting to get annoyed with it (his absence), to be honest."
Helmut Konrad, a retired banker who helped set up Euribor in 1999, told the court on Monday that it was "okay" for banks to submit a rate from a number of options that were equally good, even if one rate would be more profitable for the bank.
But asked under cross-examination whether Euribor would become a less true and reliable benchmark if three or four banks joined forces to try and influence rates, he said: "Yes, I guess if there are many banks I suppose it will have an effect."
($1 = 0.8550 euros)
(Editing by Alexandra Hudson)
euronews provides breaking news articles from reuters as a service to its readers, but does not edit the articles it publishes. Articles appear on euronews.com for a limited time.