Enoch Powell's 'Rivers of Blood' speech
Comments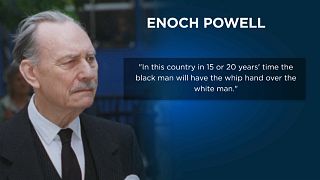 Before widespread immigration, the streets of Europe looked very different. Virtually every face was white. As things were changing in Britain in 1968, a notorious speech was made.
Enoch Powell's 'rivers of blood' speech was a direct assault on imigration from the Commonwealth.
The subsequent 50 years has disproved his claims, but, says Professor Thom Brooks of Durham Law School in the UK,  Powell's speech had lasting effect.
"There is a danger about this right now, about making sure that our political leaders can connect to people," he says. "And we don't have this kind of gulf between those who rule in our name and those on the streets lest we get other types of demagogues who can tap into something that can be quite powerful when it's there."
Brooks believes part of US President Donald Trump's appeal is that both men played a similar political game.
"This view of Brexit and taking back control and going back to how things used to be is something that was very powerful in the UK referendum and it was certainly very powerful in Trump's campaign," says Brooks.
There's no doubt Powell's words changed the course of the British debate on race, but perhaps not in the way he expected.