UK growth revised down as slow production hits
Comments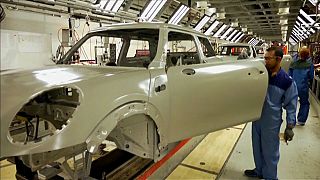 The global bounce in trade and investment appear not to have helped boost business in Britain, according to the latest figures from the Office of National Statistics.
UK growth has been revised down from 0.5 to 0.4 percent 
Speaking before the stats were released, the Bank of England governor Mark Carney indicated the country had to prepare for the worst post-Brexit.
"It's uncertainty about what's the relationship going to be with our biggest trading partner. It means that for this year why wouldn't you hold back, if if that's going to be materially affected. And that effect has been, it's a short term drag on this. That's part of the conversation and there's a much bigger conversation, which again is for Parliament, on broader structural policies that affect productivity in this countr," said Carney.
Britain's Office for National Statistics says the revision was due to slower growth in production industries.
Last year, the UK economy grew by 1.7%, slightly lower than previously thought, the weakest since 2012.