Samsung Group heir Jay Y. Lee left a South Korean jail a free man on Monday
Comments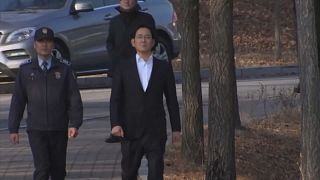 Samsung Group heir Jay Y. Lee left a South Korean jail a free man on Monday after a panel of judges suspended his sentence. The heir to one of the largest corportate empires had been in detention since February 2017 on widespread corruption charges that ousted the country's former president last year.
"Again, I am very sorry for being unable to put my best face forward with all of you," Lee told waiting reporters. "The past one year was precious time for me during which I could look back at myself. I will take care of my behaviour more meticulously and make my best efforts."
Monday's surprise decision sent shockwaves through the political and business establishments. Lee, Samsung's vice chairman,  had been convicted on charges including bribery and embezzlement and was sentenced to two and half years in prison. The suspension means he is unlikely to spend any more time behind bars.
Coming just days before South Koreans gather to host the Winter Olympics, the ruling reignited an intense public debate over widespread corruption in a case that ousted President Park Geun-hye from office last year and has ensnared leading members of the family-run "chaebol" conglomerates.