Davos 2018: What are humanitarian organisations bringing to the World Economic Forum?
Comments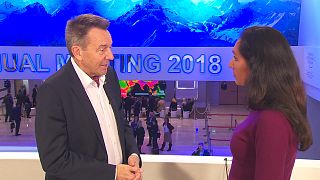 Alert warnings are being issued in Davos over the state of global security – decision makers here are being urged to act and to do something about this fast.
Dramatic disruption they say could come from a number of causes highlighting the threat of new wars and the worsening effects of climate change.
The world is entering a critical period of risk according to experts at the World Economic Forum.
Just ahead of the annual meeting, the Global Risks report is published – as in 2017, fears over environmental disasters, and in particular extreme weather, are the biggest worries.
But geopolitical threats still feature high on the danger scale – new conflicts and the humanitarian disasters that they could entail.
Euronews spoke to Daniel Shapiro, a world renowned negotiation expert, about some of the concerns.
He said: "Peace is contagious and conflict is contagious. Divisiveness tends to fuel more divisiveness, peace tends to fuel more peace. Right now the energy in our world, I think is so focused on fuelling divisiveness.
"My sense is there has been a reaction to globalisation. We retrench to some sort of group that we feel safer with, I call these tribes. I think we have moved more toward a tribalistic world – people withdrawing, nationalism, nativism. And I think it is a pendulum that swings back and forth but right now that is the challenge we are facing".
The over-arching theme of the forum this year – 'Creating a Shared Future in a Fractured World' – aims to reeducate leaders with the goal of developing a shared narrative to improve the state of the world.
To discuss in the world's security threats in greater depth Euronews' Isabelle Kumar met with Peter Maurer, President of the International Committee of the Red Cross (ICRC).
2018 is obviously just beginning but what areas in the world are you particularly concerned about?
2018 is probably for us the continuation of 2017 which means that the big areas of conflict and violence disrupting societies will be at the forefront for our concerns and also displacements ensuing for civilian population.
We see now that 42 percent of what we are doing is happening in Africa, 33 percent of what we are doing in the Middle East and then we have the large fracture lying from the South of the Philippines to Myanmar to Afghanistan to West Africa.
I think that's the forefront of our concerns.
So if we look at the new threats, it's obviously escalating tension with North Korea and particularly with United States. Now have you read that situation and what is the concern to you when it comes to that?
ICRC has been the only humanitarian organisation present in Hiroshima and therefore from the beginning of the use of the nuclear weapons we have been drawing the attention of the International community to how important it is to find policies which diffuse the threat of the nuclear weapons, because we can't deal with the humanitarian impact of the nuclear war fear.
We have been encouraged, of course, by the latest steps on the Korean peninsula towards dialogue between the two Koreas.
And this is an issue that you will be raising when you're here with all these leaders in Davos. How receptive are they to the threat of a nuclear war in 2018 or beyond obviously?
Well, I think it's very much the task of an important humanitarian organisation to raise this issues and to draw the attention of political leaders to the cost of violence and war – whether nuclear or conventional – on civilian populations, on societies, on economies and to encourage them to find a political solution to those problems because on a humanitarian basis you can't solve it.
How do you rate the US's response to this? Obviously some say they're partially responsible for this escalation and tension when it comes to the nuclear threat.
Well that goes into political tactics and the consideration of exactly what the US policy is. The fact is that after an accentuation of the difficulties and the tension, we have seen dialogue and what counts is the result and at the present moment this is positive".
Let's move geographically a little bit and look at Russia because we obviously have seen much more certainty on the world's stage. From a humanitarian angle, how do you see the conflict in Ukraine and also Russia's involvement in countries like Syria playing out?
Well, if I look at our relationship with Russia over the last couple of years in Syria and Ukraine, it has been, in humanitarian terms, a positive relationship because Russia has supported the neutral and impartial work of ICRC in Syria.
They have been very instrumental in facilitating and helping us access challenges.
Not everybody would see it in terms of facilitating.
Of course and I think it depends also on the posture and statute that humanitarian agencies take to their ability not to mingle with political issues which of course would immediately draw much more conflictual relationships with Russia. But as an important humanitarian actor on the ground it's still a fact that ICRC is the only big international organisation working in Eastern Ukraine and working with some important Russian support to have access to many parts of Syria.
At the very beginning of this interview we talked about Africa – where a lot of your efforts are obviously concentrated. Talk me through some of the conflict situations in Africa and what has you most worried in terms of a fear of escalation in 2018.
What got me worried is really when you look at the Sahel, from the Sahel to the horn of Africa you have big fractured lines in too many countries.
And what is worrying is the longterm drivers of these conflicts, wherever you look, climate change drives people away from economic opportunities and activities. The conflict between pastoralists and agriculturalists which is the driver in many parts of this region is a longterm issue which has short- term consequences in the spiral of violence and war, disrupting societies and displacing people.
So, I think beyond the ideological divide, which is obvious to many, the long term drivers and the difficulties to address some of these longterm consequences is a big issue for humanitarians because we see that we are increasingly a short-term humanitarian organisation while the affects of violence in warfare is longterm and we need to address some of these longterm issues.
*In a nutshell, there is so much bad news. Is there any good news out there?
There is a lot of good news. When I visit conflict regions, I'm most surprised by the energy, the ingenuity of people who have suffered from war and violence. Their capacity to find a way out. I just visited Central African Republic, I saw businesses in refugee camps. I saw women taking the lead in societies, articulating, gathering other women, helping themselves. It's a great encouragement for humanitarian organisation as well.