Emirates saves the giant Airbus A380 airliner with a 13 billion euro order
Comments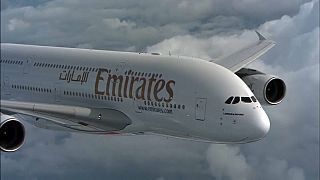 One of the largest airlines in the world has saved the largest airliner in the world from going out of production.
Emirates has confirmed it will buy 20 A380 planes from Airbus with an option to order another sixteen.
The deal is worth 13 billion euros and the first planes will be delivered in 2020.
Emirates already has over a hundred A380s in its fleet.
On Monday Airbus had said it might have to stop manufacturing the A380 if no new orders were made.
The plane can carry over 500 hundred passengers and many airports around the world have had to adapt their runways for it to land.
It was designed to limit the amount of take-offs and landings at heavily congested airports but airlines have tended to focus on flying smaller planes that are more fuel efficient.