Global economy looking good says IMF chief
Comments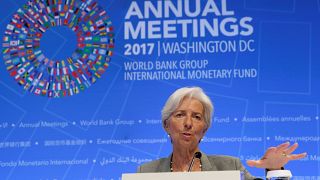 IMF chief Christine Lagarde says she is optimistic about the future of the world economy and believes the long-awaited global recovery is taking place.
Speaking at the annual joint meeting between the IMF and the World Bank, Lagarde said in terms of GDP nearly three quarters of the world was experiencing an upswing.
"What we are seeing is a recovery that is stronger, is much more broadly based than in recent years. And we expect higher global growth this year and next," she said.
But World Bank President Jim Yong Kim sounded a warning note: "We are concerned that risks such as arising protectionism, policy uncertainty or possible finanial market turbulence could derail this fragile recovery."
He added that overall there was a growth rise in most developing and advanced economies but there was a need to build reiliance against some of the challenges faced by the world today including climate change, famine and disease.