EU finance ministers support Spain over Catalonian independence
Comments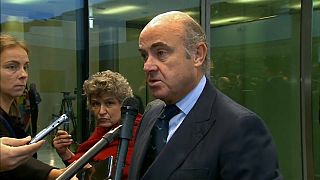 The spectre of Catalonia's independence has dominated the meeting of EU Finance ministers in Luxembourg.
While the issue was not on the official agenda, Spain's Finance Minister Louis De Guindos said fellow ministers backed the Spanish government's over the Catalan referendum on independence.
"Everyone has supported the position of the Spanish government. This is not about independence," he said. "This is about a rebellion against the rule of law. The law is the basis of not only of daily life in Spain but in all of Europe."
Austrian Finance Minister Hans Joerg Schelling said he hoped the issue would not have an impact on the euro and the European Union.
"I hope this will not flash over into a crisis for the euro and the EU, but there is a danger that extreme positions collide," he said.
While losing Catalonia would have a significant impact on Spain, as the region makes up a fifth of the country's economic output and more than a quarter of its exports, some fear it will also impact the euro zone economy as a whole.