Eurozone private sector growth stays strong
Comments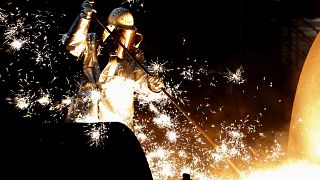 Businesses across the eurozone have maintained April's blistering growth rate this month, according to surveys of thousands of companies.
Their main problem is meeting growing demand, so firms said they are building up backlogs of work.
IHS Markit – which carried out the surveys – said they suggest the eurozone's economic momentum is being sustained with a good pace of broad based growth.
"The fact we have maintained this high level in May is great news for second quarter GDP," said Chris Williamson, chief business economist at IHS Markit.
Flash #eurozone#PMI holds at 6-year high of 56.8 in May, signals +0.6-0.7% Q2 #GDPhttps://t.co/bNWXyA4mispic.twitter.com/rVJywSeSMT

— Chris Williamson (@WilliamsonChris) May 23, 2017
Firms expressed confidence growth will continue and demonstrating that factories employed new workers at the fastest pace seen in the 20 years since the surveys started.
Growth in the dominant service industry did however decelerate slightly this month.
The surveys – seen as a good guide to economic development – point to second quarter GDP growth in the eurozone of 0.7 percent, up from the 0.5 percent seen in the first three months of the year.