EU services trade surplus worsens
Comments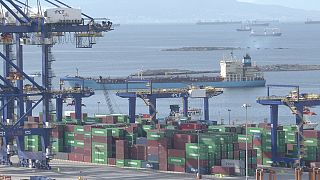 Newly released figures show that in 2016 the European Union's exports of services to the rest of the world fell while imports increased slightly from the previous year.
As a result the region's trade surplus in services was down for the third consecutive year – reversing the growth seen over the previous three years.
EU trade in services down for a third consecutive year #Eurostat – https://t.co/f1aYOtmG7Cpic.twitter.com/FtE8ZlgfHX

— EU_Eurostat (@EU_Eurostat) May 19, 2017
Services account for about a third of total EU exports and it's around the same proportion for imports.
Telecommunications, computer and information services, financial services and transport and travel expanded, while there was a significant deficit in charges for the use of intellectual property.
Transport and travel remained the largest contributor.
Top countries for service trade
In 2016, the main partners for EU exports of services remained the United States with 27 percent and Switzerland at 14 percent, well ahead of China (five percent), Japan (four percent) and Russia (three percent).
The main partner for EU imports of services also continued to be the United States with 30 percent, followed by Switzerland at 14 percent, then China with four percent; Japan and India both claimed two percent.
US top partner for EU trade in services in 2016 # Eurostat – https://t.co/f1aYOtmG7Cpic.twitter.com/BjxIE1rsYy

— EU_Eurostat (@EU_Eurostat) May 19, 2017