IMF's Lagarde upbeat on growth, worried about protectionism risks
Comments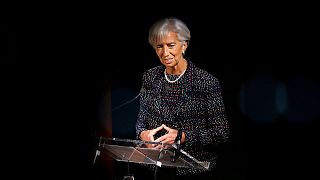 The recovery of the world's economy is gaining momentum according to the head of the International Monetary Fund Christine Lagarde.
But – in what could be seen as a criticism of US President Donald Trump's 'America First' trade agenda – she warned that that recovery could be cut off by protectionism.
Lagarde said restricting trade would be a "self-inflicted wound" that would disrupt supply chains and raise prices, hitting the world's poor hardest.
.Lagarde</a>: Political uncertainty, protectionism, & weak productivity growth- key risks to global growth <a href="https://twitter.com/hashtag/IMFBruegel?src=hash">#IMFBruegel</a> <a href="https://t.co/HTFpaLLwW5">https://t.co/HTFpaLLwW5</a> <a href="https://t.co/F77Rf1kaQi">pic.twitter.com/F77Rf1kaQi</a></p>&mdash; IMF (IMFNews) April 12, 2017
Speaking in Brussels, ahead of next week's IMF and World Bank spring meetings in Washington, Lagarde said the global economy "has a spring in its step".
She told an audience at the Bruegel economics think-tank: "After six years of disappointing growth, the world economy is gaining momentum as a cyclical recovery holds out the promise of more jobs, higher incomes and greater prosperity going forward."
Read Lagarde</a>&#39;s <a href="https://twitter.com/hashtag/BruegelEvent?src=hash">#BruegelEvent</a> speech on building a more resilient and inclusive global economy >> <a href="https://t.co/2d8HbXCouc">https://t.co/2d8HbXCouc</a> <a href="https://twitter.com/hashtag/IMFBruegel?src=hash">#IMFBruegel</a> <a href="https://t.co/otnoZPAHWr">pic.twitter.com/otnoZPAHWr</a></p>&mdash; Bruegel (Bruegel_org) April 12, 2017
As well as protectionism, Lagarde also warned of the risks of political uncertainty, particularly in Europe: "I'm here referring to various elections that are coming up; I'm referring to Brexit and the terms under which it will be negotiated, the sword of protectionism which is hanging over global trade and tighter global financial conditions that could trigger disruptive capital outflows from emerging to developing economies, a phenomenon that we have not seen yet."
Greek bailout talks "halfway" there
Lagarde also spoke about Greece, saying the reforms there are heading in the right direction.
Those economic reforms are linked to latest bailout loan for Athens, which the IMF has yet to agree to take part in.
Lagarde said the bailout review talks and the IMF's potential role in it are "only halfway through".
#IMF's Lagarde</a> :I am not aligning myself with Minister Schäuble who says that Greece&#39;s problem is not debt but productivity <a href="https://t.co/kWTcUouo6z">pic.twitter.com/kWTcUouo6z</a></p>&mdash; Thanasis Koukakis (nasoskook) April 3, 2017
IMF participation is seen as a condition for Germany to unblock new funds for Greece.
She reiterated Greece's debt – now 178 percent of gross domestic product – will need to be restructured to guarantee the stability of the country's finances.
Germany, the largest European Union economy, opposes debt relief, believing that agreed reforms are enough to sustain financial stability.
But Berlin still wants the IMF to join the bailout, now provided by eurozone governments alone, to make it more effective and less expensive for eurozone countries.