Financial markets braced for US interest rate hike
Comments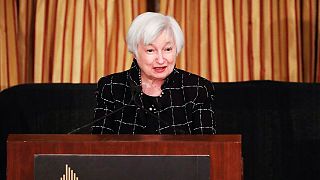 The eyes of the financial world are on the Federal Reserve as policymakers started a two-day meeting which is almost certain to produce an increase in the cost of borrowing there.
The woman in charge of the Fed, Janet Yellen, will speak after the meeting on Wednesday perhaps giving clues on how fast the US central bank intends to put up interest rates.
Investors will try to work out how many rate hikes can be expected this year based on the Fed experts' new economic forecasts.
The main factors the Fed focuses on – jobs and inflation – are changing quicker than expected.
The jobless rate, at 4.7 percent of the workforce, is already below what is considered the long-term norm, and inflation is recording bigger than expected gains. The Fed has a 2 percent inflation target and tracks a measure that is currently at 1.7 percent.
Wait-and-see
In Europe share prices dipped with investors in wait-and-see mode and not wanting to take any risks ahead of the Fed's decision.
Analyst Robert Halver with Baader Bank said: "With the economy improving a rate increase is doable, but what's much more important is what comes next. I believe Janet Yellen will continue to play her rate game, but you musn't be scared that there are going to be further radical rate increases. Her rate changes will be gradual. No one will get hurt because she knows full well that with the world's debt as it is, a sharp rate increase is not manageable."
Shares and dollar little changed
The Wall Street share indexes were little changed in early trading.
Investors are concerned about the effect higher interest rates will have on economic growth but recently have been betting on a potential boost from President Donald Trump's proposed fiscal policies.
There were no big moves either by the dollar against other currencies.
From VFHIVE</a>: The president and the Federal Reserve chair are on a collision course <a href="https://t.co/3kYpKVsEab">https://t.co/3kYpKVsEab</a></p>&mdash; VANITY FAIR (VanityFair) March 13, 2017