Tsipras confident on bailout review but urges no more burdens for Greece
Comments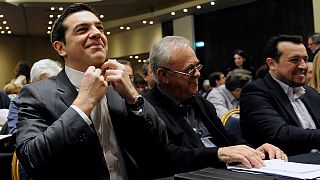 An all-important review of Greece's latest bailout will end well, Alexis Tsipras told a meeting of his Syriza party in Athens on Saturday.
But the Greek prime minister warned international lenders not to heap new burdens on a country he said had been "pillaged", with a population that had made "many sacrifices in the name of Europe".
As for a generous debt reduction, Tsipras said "it goes without saying that it will happen sooner or later".
But he added that fears of the far-right were preventing lenders from making any decisions before crucial upcoming elections in the Netherlands, France and most significantly in Germany.
Tsipras sees a positive outcome after Friday's round of talks, aimed at securing a deal to release more funds to Greece, thus saving it from default.
Greece says bailout deal close, but will not accept 'illogical' demands https://t.co/MkLUJZw6Sbpic.twitter.com/gH2W9E0nLl

— Kathimerini English (@ekathimerini) 11 février 2017
But European Commission President Jean-Claude Juncker says an agreement is "on shaky ground" because the IMF has not yet decided what role it will play.
Juncker, in an interview to be aired on German radio Deutschlandfunk on Sunday, praised Greece for some of the steps it has already taken.
"No country has managed bigger steps to improve competitiveness than Greece," he said.
But the Commission president also said that the bailout programme, Greece's third, could fall apart as the IMF has not yet made up its mind whether to take part in providing more aid.
And for Greeks themselves, even if the deal is secured, accepting yet more cutbacks in return for aid will be hard to swallow.
with Reuters