Technology firms angered by Trump's immigration executive order
Comments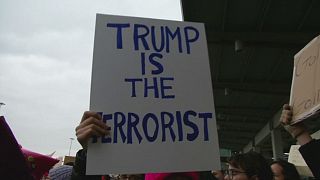 Many in the US technology industry – which is a major employer of foreign workers – have been speaking out against President Donald Trump's immigration executive order.
Airbnb said it would provide free housing to those stranded in other countries because they have not been allowed into the US.
Airbnb's boss Brian Chesky said on Twitter: "Not allowing countries or refugees into America is not right and we must stand with those who are affected."
If you would like to help temporarily house these people in need, sign up here: https://t.co/y0ctQprO3u

Thank you for your generosity! https://t.co/mIVOqZZ529

— Airbnb (@Airbnb) January 30, 2017
Uber chief executive Travis Kalanick, who sits on Trump's business advisory council, stepped up his criticism and pledged to compensate its drivers who were stuck overseas by the order.
"This ban will impact many innocent people – an issue that I will raise this coming Friday when I go to Washington for President Trump's first business advisory group meeting," Kalanick said.
Our CEO's reaction to immigration order: "We'll compensate drivers impacted by the ban pro bono for next 3 months." https://t.co/meCT1ahEjH

— Uber (@Uber) January 29, 2017
Kalanick's initial failure to condemn the White House move had led to the launching of a #DeleteUber campaign, in which users responded by posting screenshots of themselves deleting the Uber app or their Uber accounts.
Consumers lash out at Uber and turn to Lyft after Uber's immigration response https://t.co/q4oXcSzClJpic.twitter.com/sabBdV3v7P

— MarketWatch (@MarketWatch) January 30, 2017
Rival Lyft took advantage of the situation by putting out a strong statement against the immigration ban and announcing a $1 million (936,000 euros) donation to the American Civil Liberties Union.
3/ We are donating $1,000,000 over the next four years to the ACLU to defend our constitution. https://t.co/0umGOlkhSx

— logangreen (@logangreen) January 29, 2017
Google's CEO Indian-born US citizen Sundar Pichai set up a crisis fund for the more than 180 of its employees who are affected because they come from countries named in the order.
For generations, this country has been home to immigrants like Sanaz. Her story is playing out all over the country. Google is with you. https://t.co/mllnZ5gNDB

— sundarpichai (@sundarpichai) January 29, 2017
"We're concerned about the impact of this order and any proposals that could impose restrictions on Googlers and their families, or that could create barriers to bringing great talent to the US," Google said in a statement.
Microsoft also has an Indian-born now US citizen at the helm, Satya Nadella. The company said 76 of its employees were citizens of the seven countries in question and held US work visas.
Nadella spoke out about the positive impact of immigration.
Our thoughts on yesterday's U.S. Executive Order on Immigration https://t.co/XaVk2z1sQj on LinkedIn</a></p>&mdash; Satya Nadella (satyanadella) January 28, 2017
Facebook's Mark Zuckerberg posted that he is "concerned" about the order and voiced support for immigrants saying the US authorities should be "focusing on people who actually pose a threat".
Twitter's Chief Executive Jack Dorsey joined the chorus saying "Twitter is built by immigrants of all religions. We stand for and with them, always".
Twitter is built by immigrants of all religions. We stand for and with them, always.

— Twitter (@Twitter) January 29, 2017
Dorsey had earlier promoted a video featuring a Syrian small-business owner at an event in Knoxviell , Tennessee.
11% of Syrian immigrants to the U.S. are business owners, more than triple that of U.S.-born business owners https://t.co/cU9UMKcG4r

— jack (@jack) January 28, 2017
Jeff Weiner of LinkedIn pointed out the business benefits of immigrants and said "All ethnicities should have access to opportunity – founding principle of US".
40% of Fortune 500 founded by immigrants or their children. All ethnicities should have access to opportunity — founding principle of U.S.

— Jeff Weiner (@jeffweiner) January 28, 2017
Consistent with values that helped build U.S., let's support those looking to make a better life in a new country https://t.co/ybc0zX29Um

— Jeff Weiner (@jeffweiner) January 29, 2017
Apple's CEO Tim Cook in a letter to employees called the executive order on immigration "not a policy we support" and promised to help affected employees.
He stressed that Apple would likely not exist without immigration given that co-founder Steve Jobs' birth father Abdulfattah Jandalie was a graduate student who came to the United States from Syria to continue his studies.
Apple CEO Tim Cook sent an email to employees about the immigration ban | TechCrunch #SmartNewshttps://t.co/48CDliPjjA

— Jan #DemForce ❄️❄️ (@irisbreeze) January 30, 2017