Soybean slowdown: weaker exports hit US economic growth
Comments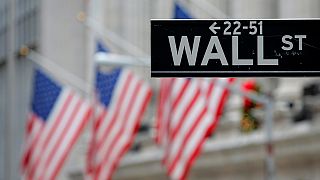 They are calling it the soybean slowdown.
The first official estimate of US economic growth in the final three months of last year showed it was much weaker than the previous quarter.
One reason – there was a big jump in exports of US soybeans in the third quarter due to higher demand following a poor soy harvest in Argentina and Brazil.
In the fourth quarter, exports fell at a 4.3 percent rate, reversing the 10 percent increase notched in the third quarter.
From 3.5% to 1.9%
Consequently gross domestic product increased by 1.9 percent from the same period a year earlier. That was much lower than the 3.5 percent between July and September.
Growth in the first half of the year was curbed by cheap oil and a stronger dollar reducing company profits and undercutting business investment. It was 0.8 percent in the first quarter and 1.4 percent in the second.
US #GDP for Q4 prints at 1.9% missing economists expectations. pic.twitter.com/DFHsepM0Nd

— Grant Glenn,CFA,CFP® (@GrantSGlenn) January 27, 2017
However steady consumer spending and rising business investment suggests the US economy will continue to expand.
Consumer spending accounts for more than two-thirds of US economic activity and it increased at a 2.5 percent rate in the fourth quarter having risen at a 3.0 percent pace in the third quarter.
For all of 2016 GDP grew just 1.6 percent – the weakest pace since 2011.
Average US #GDP growth per quarter. Q4 tends to be the strongest. pic.twitter.com/KiC22jsi6S

— jeroen blokland (@jsblokland) January 27, 2017
Bright 2017 outlook
The outlook for the US economy is bright for 2017.
The labour market is at or near full employment which is starting to lift wages and supporting consumer spending.
Growth this year could also get a boost from President Donald Trump's pledge to increase infrastructure spending, cut taxes and reduce regulations.
Although Trump has offered little detail on his economic policy, his promises have been embraced by consumers, businesses and investors. Consumer and business confidence have soared, while the US stock market has rallied to record highs.
But uncertainty over the Trump administration's trade policy poses a risk to the economy.