Prosecutors probe when VW's former chief executive knew of emissions cheating
Comments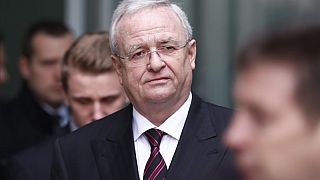 The former top boss of Volkswagen Martin Winterkorn is being investigated over when he knew about the company's emissions cheating.
Prosecutors in the German town of Braunschweig near Volkswagen's Wolfsburg headquarters said there are indications he might have been aware of the scandal earlier than he previously admitted.
Appearing before German lawmakers last week Winterkorn refused to say when he first learned about the cheating but did say it was no earlier than VW has officially admitted.
VW has said its executive board did not learn of the software violations until late August 2015 and formally reported the cheating to US authorities in early September that year.
What did he know and when did he know it?
Braunschweig's senior public prosecutor Klaus Ziehe told reporters they are basing their investigation on statements by suspects and witnesses: "We assume that, contrary to his public statement last week, he may have known something earlier. Anyway we have suspicions to that effect. Whether they are confirmed or evaporate in the air, is our investigation's mission."
Based on fresh evidence, Winterkorn is one of 37 people now being investigated, an increase from the original total of 21.
Braunschweig prosecutors said on Friday they had searched 28 homes and offices in connection with their investigation this week.
Defeat device
VW admitted in September 2015 it had used a so-called defeat device to reduce emissions levels when cars were being tested in the United States.
That forced Winterkorn's resignation and led to investigations and lawsuits around the world. It also wiped billions of euros off the company's market value as the share price slumped.
Winterkorn denied any wrongdoing when he quit on September 23, 2015 but said he was clearing the way for a fresh start at VW with his resignation.
Winterkorn ran the carmaker for more than eight years and oversaw a doubling in sales and an almost tripling in profit.