Johnson & Johnson pays big for Swiss biotech firm Actelion
Comments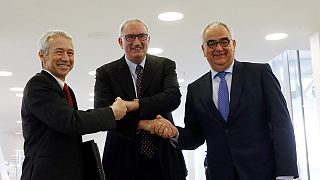 US healthcare giant Johnson & Johnson is to buy Actelion, Europe's biggest biotech company – paying $30 billion (28 billion euros).
The purchase gives Johnson & Johnson access to the Swiss group's highly profitable range of medicines for rare diseases.
The deal represents a 23 percent premium to Actelion's closing price on Wednesday and is more than 80 percent above the November 23 closing price before takeover reports first emerged.
The top price being paid is vindication for Doctors Jean-Paul and Martine Clozel, the husband-and-wife team who founded the company in 1997.
They have fended off previous bids in the belief they could increase Actelion's value by keeping it independent.
The darling of European biotech
Jeremy Cook, Chief Economist at World First hailed the deal: "Actelion is the darling of European biotech. You don't get much better than Actelion. The drugs that they have created for hypertension, pulmonary hypertension, are industry leaders."
And J&J is not even getting all of Actelion which will spin off its research and development unit into a separate enterprise run by Jean-Paul Clozel. J&J will control up to 32 percent of the new company.
Our CEO and Co-founder, Jean-Paul Clozel, comments on #JNJ proposal #ATLNJNJNews</a> <a href="https://twitter.com/JNJNews">JNJNews
https://t.co/Dt87cd0HRUpic.twitter.com/Tus1xHBbqk

— Actelion (@actelion_com) January 26, 2017
Sanofi sidelined
Actelion has been the subject of takeover speculation for weeks after J&J launched and then halted discussions with the Swiss company. French drugmaker Sanofi had also been interested, sources said, but was sidelined after J&J returned and began exclusive negotiations in December.
Sanofi's failure to come away with a big deal for a second time will add to pressure on its management.
Johnson & Johnson to Acquire Actelion https://t.co/cPAB5lkztQ

— edegroote (@jazziz65) January 26, 2017