BMW, Daimler and Volkswagen's shares fall on Trump border tax threat
Comments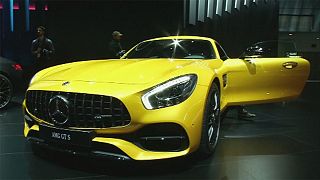 Shares of German carmakers fell on Monday after President-elect Donald Trump warned he would impose a hefty border tax on their vehicles imported into the United States.
In an interview with German newspaper Bild, Trump said: "If you want to build cars in the world, then I wish you all the best. You can build cars for the United States, but for every car that comes to the USA, you will pay 35 percent tax."
Under pressure to deliver on campaign promises to revive US industrial jobs, Trump has turned his fire on carmakers that use low-cost Mexican plants to serve the US market.
US production
BMW, Daimler and Volkswagen, who have invested heavily in Mexico, responded that they build hundreds of thousands of cars in the US, indeed BMW's largest factory in the world is in Spartanburg, South Carolina.
Germany's VDA automotive industry association pointed out that German carmakers have quadrupled light vehicle production in the United States over the past seven years to 850,000 units, more than half of which are exported from there.
"In the long term, the United States would be shooting itself in the foot by imposing tariffs or other trade barriers," VDA President Matthias Wissmann said in a statement.
German carmakers employ about 33,000 workers in the US and German automotive suppliers about 77,000 more, the VDA said.
Trade war fears
Carsten Brzeski, chief economist at ING Diba bank sees the danger of a major trade war: "If we really take Mr. Trump's words for granted then we do see the end of free trade. This is the start for a trade war. It's the start for a period of protectionism. The hope is that in the end his policies will not be as harmful as they sound right now. But if you look at these policies of 'own country first', trying to isolate the country from foreign companies, trying to impose tariffs – this will lead to retaliations from other countries, namely that the EU then will also increase border tariffs. And this clearly is the end of free trade."
In the interview with Bild Trump said: "When you walk down Fifth Avenue, everybody has a Mercedes-Benz parked in front of his house. How many Chevrolets do you see in Germany? Not many, maybe none, you don't see anything at all over there. It's a one-way street."
General Motors, which owns Chevrolet, is also the parent company of German based Opel and its British sister marque Vauxhall. Its market share in Germany in the early part of 2016 was approximately eight percent.
Trump says BMW selling into US is unfair because Europeans don't buy Chevrolets. Does he know General Motors owns Opel?

— Peter Campbell (@Petercampbell1) January 16, 2017
General Motors in 2013 said it would drop the Chevrolet brand in Europe by the end of 2015. Since then, GM has focused instead on promoting Opel and Vauxhall.
'A bad awakening'
In Berlin, the economy minister Sigmar Gabriel responded that rather than trying to penalise German manufacturers, the United States should instead build better and more desirable cars, adding: "The American car industry is getting worse, weaker and more expensive."
Also interviewed by Bild, Gabriel said: "The US car industry would have a bad awakening if all the supply parts that aren't being built in the US were to suddenly come with a 35 percent tariff. I believe it would make the US car industry weaker, worse and above all more expensive. I would wait and see what the Congress has to say about that, which is mostly full of people who want the opposite of Trump."
In the past, before he was elected as president, Trump has expressed admiration for Daimler's Mercedes cars and BMW owned Rolls Royce, and even reportedly owns some, as you can see in this article