Eurozone industrial output surprisingly strong in November
Comments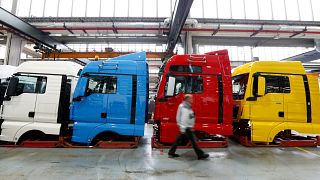 Just released statistics show industrial output in the eurozone rose by more than expected in November as firms stepped up production before Christmas.
It was the second month in a row that it had increased.
The fact that industries cranked up production points to an economic spurt that may be arriving earlier than some European Central Bank policymakers had expected.
Output in the 19 countries using the euro surged 1.5 percent in November from the previous month, and was up 3.2 percent year-on-year according to the European Union's statistics agency.
October's output was also raised to 0.1 percent from a previously estimated 0.1 percent decline.
Euro area industrial production +1.5% in November 16 over October 16, +3.2% over November 15 #Eurostathttps://t.co/NVz8Rzk1Hhpic.twitter.com/cXvIN3YXTa

— EU_Eurostat (@EU_Eurostat) January 12, 2017
Among the four largest economies, France saw the strongest pickup in November – up 2.2 percent month-on month.
In Spain output rose 1.7 percent and there were more modest rises in Italy (0.7 percent) and Germany (0.3 percent).
Ireland had the biggest overall increase, with a jump of 16.3 percent compared with October.
There were decreases in both Greece and Portugal of 0.9 percent.
Economists said these figures added to the evidence that eurozone gross domestic product will have picked up in the last quarter of last year.
The unexpected increase in eurozone economic activity could lead to more calls for the European Central Bank to scale back its stimulus measures.
January 12, 2017
For the 28 countries of the European Union, industrial production rose 1.6 percent month-on-month and 3.1 percent from November 2015.