UK and Irish services sectors see fast growth
Comments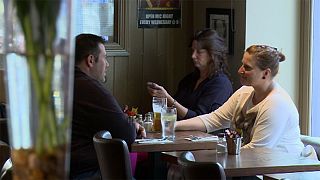 Britain's economy finished 2016 strongly according to the latest industry surveys by Markit/CIPS.
In December companies in the service sector reported growth that was the fastest in nearly a year and a half.
Business surveys earlier this week, also by Markit, showed manufacturing in Britain performing strongly.
"A buoyant service sector adds to signs that the UK economy continues to defy widely-held expectations of a Brexit-driven slowdown," Markit's chief business economist, Chris Williamson, said.
Based on those figures, Markit believes Britain's economy expanded 0.5 percent in the last three months of 2016.
#UK service sector ends 2016 with strong expansion as #PMI hits 17-month high of 56.2 (Nov'16 – 55.2). https://t.co/vvB4UZQrc1pic.twitter.com/3dw8me2DoJ

— Markit Economics (@MarkitEconomics) January 5, 2017
And the British Chambers of Commerce in its quarterly survey released at the same time also found sales and hiring improved modestly in the final three months of the year, suggesting that the UK economy maintained its momentum.
James Bevan, Chief Investment Officer with CCLA Investment Management, said there has been a bounce back effect from the fear over Brexit: "I do think that what we are observing is some catch-up from the very dull days around Brexit when everybody was doom and gloom and there is now a much more realistic expectation that everyone can continue to do reasonably well in a post-Brexit decision environment."
Higher prices coming
The downside for consumers is that price rises are forecast with businesses saying they are facing higher costs due to the much weaker pound after Britain voted to leave the European Union.
The BCC surveys showed a record number of manufacturers expect to raise prices in the next three months and more businesses in the services sector plan to raise prices than at any time since early 2011.
BCC's Head of Economics, Suren Thiru, comments on the challenge of rising prices: #BCCQEShttps://t.co/t2LWzC8ZxVpic.twitter.com/aAo91dqncY

—

BCC

(@britishchambers) January 5, 2017
Most economists forecast that a slowdown will hit Britain in 2017 as companies pass on the higher costs incurred after the pound weakened, squeezing incomes.
Green light for Irish growth
Growth in the Irish services industry also strengthened in December and is back near the level it had reached before the referendum in the UK.
Ireland is the country most at risk from Britain's decision to leave the EU because of their close trading links.
"The rate of growth in activity across much of Ireland's private sector picked up in late 2016 after the 'soft patch' endured in the wake of the UK's vote for Brexit," Investec Ireland chief economist Philip O'Sullivan said, referring to both Irish PMI surveys.
"While political developments have the potential to put a dent in the pace of growth once again this year, we draw comfort from the fact that the Irish manufacturing and services sectors proved sufficiently resilient to continue expanding in spite of all the challenges that the past year produced.