China stresses US mutual interests amid trade war fears
Comments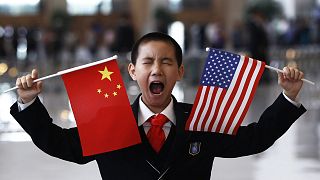 China has signalled it wants to avoid a trade war with the United States after President-elect Donald Trump named tough-talking Robert Lighthizer as his chief trade negotiator.
When he worked for President Ronald Reagan in the 1980s, Lighthizer was tasked with helping reduce imports into the US from Japan through threats of quotas and punitive tariffs.
A harsh critic of China's trade practices, Lighthizer in 2010 told Congress that US policymakers should take a more aggressive approach in dealing with the Asian country.
In Beijing, Chinese foreign ministry spokesman Geng Shuang said: "After years of development, China and the United States have actually formed a pattern of interests interwoven with each other. In terms of problems that exist in the China-US economic and trade relationship, both sides should seek proper solutions on the basis of mutual respect and equal treatment."
He called for the two countries to work together to maintain healthy and stable development of their economies and trade.
During the election campaign Trump threatened to slap high import tariffs on Chinese goods and accused Beijing of manipulating its currency.
In the run up to Trump's inauguration the Chinese government has stepped up efforts to strengthen the yuan.
Who is Robert Lighthizer?
He served as deputy US trade representative during the Reagan administration in the 1980s.
According to Trump's transition team: "He played a major role in developing trade policy and negotiated some two dozen bilateral international agreements on topics from steel to grain."
He has since spent nearly three decades as a lawyer representing US companies in anti-dumping and anti-subsidy cases.
He currently works with the law firm Skadden, Arps, Slate, Meagher and Flom.
Lighthizer has argued that China has failed to live up to commitments made in 2001 when it joined the World Trade Organisation and that tougher tactics are needed to change the system, even if it means deviating from WTO rules.