Volkswagen chased for emissions scandal compensation in Germany
Comments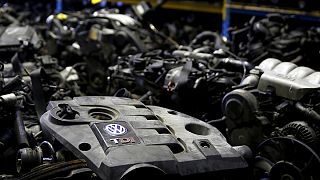 A German consumer rights group has filed a test case against Volkswagen over the emissions cheating scandal.
It is trying to get the same sort of compensation as owners in the United States.
VW has reached agreements with US authorities to fix or buy back vehicles after admitting hidden software was fitted to some diesel engines to disguised their pollution levels.
Jan-Eike Andresen is the co-founder of the MyRight.de website which is bringing the German action.
He said: "We want this court to determine that every affected German owner has the right to return their car to VW and be reimbursed the full purchase price. That's unless they want to keep their car in which case they'd have the right to receive compensation for the reduced value of the car, which is around 10 to 15 percent of the original price, depending on its age."
He added: "Every affected person has been cheated by Volkswagen and there is no reason why people should have to keep their cars."
German sues Volkswagen over Dieselgate compensation (or lack thereof): Back in June, some… https://t.co/RbED5YmAIL

— Car Guy (@Car_Guy_CO) January 3, 2017
Volkswagen has said that its customers are not entitled to any compensation under European law, which is different from that in the US.
It insists the software fitted into the engine at the centre of the scandal, codenamed EA 189, does not violate European Union law.
If the court rules in favour of the German owners it could set a precedent and force the carmaker to pay compensation to large numbers of them. MyRight.de says it is already representing over 100,000.
It said it has mandated US law firm Hausfeld to pursue claims. Hausfeld represents aggrieved VW owners and shareholders on both sides of the Atlantic.
Around 11 million vehicles worldwide had the cheating software fitted, and 8.5 million of those were in Europe.
Volkswagen declined comment on the myRight suit.
"We have taken note that myRight has announced the submission of diesel lawsuits for Jan. 3. The lawsuits have not yet been made available to us which is why we cannot comment on the contents at the moment," the carmaker said
.CarolineRussell</a> & <a href="https://twitter.com/SadiqKhan">SadiqKhan discuss the Volkswagen</a> cheat device, but will Londoners ever get the <a href="https://twitter.com/hashtag/compensation?src=hash">#compensation</a>?<a href="https://t.co/aLjVuhR0Ke">https://t.co/aLjVuhR0Ke</a> <a href="https://t.co/0PWKgb9GcT">pic.twitter.com/0PWKgb9GcT</a></p>&mdash; PleaseBringMeMyWine (PBMMW) December 29, 2016