Fair finance or funny money? Scepticism greets Zimbabwe's new bond notes
Comments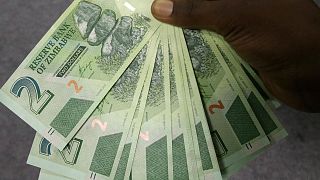 Struggling with a shortage of cash Zimbabwe has introduced a new currency, a "bond note", redeemable against US dollars, which has been the country's official currency since 2009.
#Zimbabwe central bank to introduce bond notes Monday amid biting cash shortages in the economy https://t.co/WJefVxlQsvpic.twitter.com/Owcw3BSkn3

— China Xinhua News (@XHNews) 27 novembre 2016
However many people fear the bond note will wipe out savings and trigger printing of money, which raged out of control in 2008, leading to the adoption of the dollar.
"This money should be accepted by everyone because it's from the government. Whoever refuses it is clearly anti-government and should be reported to the police," said one Harare resident.
"We don't need the bond note, this is daylight robbery to steal from Zimbabweans. What happened to the Zim dollar is exactly what will happen to these bond notes.They have already stolen the real money," said a more sceptical member of the public.
Zimbabwe Bond Note launch stokes currency fears: https://t.co/0UeYvVt87Kpic.twitter.com/9PQwqziveU

— Zimbabwe Today (@ZimToday) 28 novembre 2016
The bond note introduction has sparked unrest in recent months, also fuelled by the government paying many salaries late, a drought, high unemployment and serious food shortages.
Day 1 and the Bond Note is already trading weaker than USD.#BondNotespic.twitter.com/qJUfJYzNs7

— Trends Zimbabwe ™ (@TrendsZim) 28 novembre 2016
One opposition politician warned the bond notes would trigger hyperinflation and feed the black market. News agencies reported a run on banks by people desperate to withdraw hard currencies.
From January 1 the Chinese yuan will also be legal tender in Zimbabwe.