Morocco's building trade goes green hot on the heels of Cop 22
Comments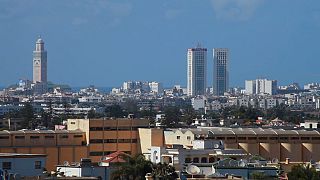 As the sand settled on Cop 22 Morocco invited 45 countries to display their wares at the 'Salon du Batiment' in Casablanca.
L'Association Professionnelle des Industries Céramiques vous souhaite la bienvenue au salon international du bâtiment. #APIC#casablancapic.twitter.com/Fc9JeURoY4

— Apic (@Apicmaroc) November 23, 2016
More than ever the 2016 the biennial event is concentrating on green construction.
Plus de 200.000 visiteurs et 660 exposants à la 16ème édition du Salon International du Bâtiment https://t.co/AZBd1PBqrEpic.twitter.com/Ly5lwqUmvw

— Agence

MAP

(@MAP_Information) November 21, 2016
Morocco's housing minister is Mohammed Nabil Benabdallah:''After COP 22 we have to improve the quality and to make efforts in terms of energy efficiency. It's a new source of development for our country and we want it to be the main axis of promotion of the housing sector. That sector employs more than a million people. It represents more than 6% of our national economy, of our GDP."
Traditionally Morocco has a huge agricultural sector around 40 percent of the population are engaged in one form or another.
Climate change is changing behaviour, last year Morocco went two months without rain, people are on the move: "Most of the people are moving to the cities. Now over 65 percent of the population is living in cities. People are moving from the rural areas to urban areas. If we are not ready to accept them – we are going to have a big problem," explained Benabdallah.
Readiness to accept them means places to live and that is driving the building trade.
According to official figures the industry provided around 52 thousand jobs to offset losses in the farming sector.
The building boom has helped bring the country's unemployment rate down to 9.6 percent in the third quarter of this year from 10.1 percent in the same period last year.