Exploring the moral as well as monetary values of the internet
Comments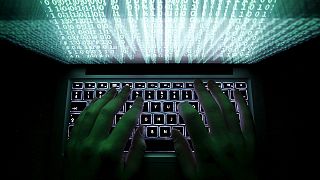 Leaders of the digital world have been brought together by the Catholic Church as it seeks to establish a dialogue with business.
We are saying: 'What are the values that you're going to construct with your business'

Pontifical Lateran University
With the backing of Pope Francis, the Vatican organised a workshop focused on the digital revolution and the transmission of values in the digital age.
One of those taking was Google's Carlo d'Asaro Biondo, head of Strategic Relationships for EMEA.
He told Euronews: "As the internet is for everyone, there is a joint responsibility to make sure that it provides value and provides all citizens with a better understanding of the environment we live in. The internet is just a tool. It's what we make of it that matters."
The conference organisers created the hashtag #anewbeginning – which is intended to reflect not only the digital revolution itself, but also the responsibility it puts on businesses.
Maurice Levy, Chairman of the leading ad agency and PR firm Publicis, agrees: "We have to change, We have to change our behavior, change our organisation, change the way we are communicating with the public and we are marketing product. So it is a transformation, it's something which is very complicated, but it's something which is accelerating, because you can have a fantastic project and you can make a real difference if you take advantage of this digital revolution."
Lateran Univ conference explores core values in digital age – Vatican Radio https://t.co/V3gJoaBR7s

— carlo d'asaro biondo (@carlodasaro) November 5, 2016
The digital revolution brings challenges as well as benefits. It has already changed the model from supply led to demand led.
According to Jerry Bulhmann, the CEO of global media group Dentsu Aegis Network, data have become the new currency for business: "There is now so much data, that you can use data to make everything you do much more efficient and much more effective. One third of all people believe that they will transact their data to receive free content. That's in the media environment. So data is powering everything we do and there is massive efficiency in understanding and using data."
There are important ethical issues linked to digitalisation; for example how people use the web and social media to advance their causes.
Rabih El Chaer, the co-founder of Lebanese anti-corruption NGO 'Sakker El Dekkene' told Euronews that could be clearly see in recent events in the Middle East: "This is a very tormented situation where the unemployment in this region, all this instability, is really alarming. At the same time the internet is infiltrating all around. Look at Egypt, look at other countries where, in the Arab Spring, the internet played a key role in moving the population towards changing the regime."
Big businesses have expressed interest in the Catholic Church's initiative to establish a dialogue on values in the digital age.
But inevitably there are concerns about profitability.
The Vatican's response from priest and professor of philosophy Philip Larrey at the Vatican's Pontifical Lateran University: "If you put values on the ground level of your business – although you obviously have to make money – you will do it in a humane way. Instead of saying 'OK, now you're making a lot of money, how can you inject values', we are starting before that. We are saying: 'What are the values that you're going to construct with your business, your activity, with your transmission, and that is how we are going to amalgamate many, many different values in order to be transmitted today."