Weaker pound hits easyJet's profit
Comments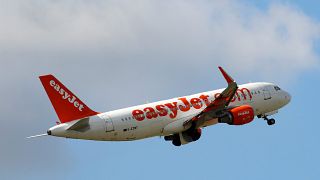 The Brexit vote means turbulence for British airline easyJet.
The low-cost carrier's profits slumped because of the falling value of the pound, and with fewer people flying following militant attacks in Egypt, Turkey, Paris and Nice.
Its annual earnings for the financial year that ended on September 30 were down for the first time in six years, lower by 28 percent at 495 million pounds (572 million euros).
The fall in sterling knocked 88 million pounds (101 million euros) off easyJet's annual profit and the carrier said it expected a hit of 90 million pounds in the 12 months to September 2017.
Sterling has fallen by about 14 percent against the euro and 16 percent against the dollar since the Brexit vote.
Post Brexit flying certificate needed
The company also revealed plans to apply for an Air Operator Certificate (AOC) in another European Union country so as to be certain it can continue flying within the EU, as and when the UK leaves. That will cost about 10 million pounds (11.56 million euros).
Easyjet – which is Europe's second biggest budget airline after Irish based Ryanair – is more affected by the Brexit vote than its rivals.
That is because nearly a third of its flights are between and within member states other than Britain.
British Airways parent company IAG is already EU-owned and has various AOCs as does Germany's Lufthansa. Ireland's Ryanair is still considering whether it would need to get a UK certificate in the event of Brexit.
"We are confident there will be an agreement between the UK and the EU but we can't be certain it will be reflective of current arrangements so that's why we need to establish an EU operating company," Chief Executive Carolyn McCall said.
McCall said easyJet's headquarters would remain in Luton, just north of London. It operates 140 planes and employs 6,500 people in Britain.