Uzbekistan's tourism potential presented at the World Travel Market
Comments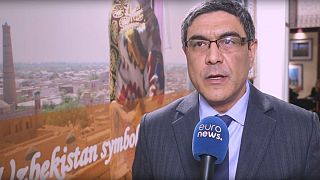 At the World Travel Market 2016 in London, the leading event for the global travel industry, euronews spoke to Farrukh M. Rizaev, Chairman at Uzbektourism, about major events happening in his country relevant for the travel industry.
The interview is in russian language
We have a very significant event, which is held in October, it is the Tashkent International Tourism Fair, which is held in cooperation with UNWTO. The second one takes place every April. It is also an international tourism fair. Both of them are among the biggest and most important travel fairs in Central Asia. There are about a thousand tour operators and travel agents participating in them, and they come from more than 30 countries around the world. In addition, we have other important events such as "Silks and Spices", which is held in Buchara and there are another 150 events around the year that are of interest for visitors to our country.