US adds 161,000 jobs in October, wages rise
Comments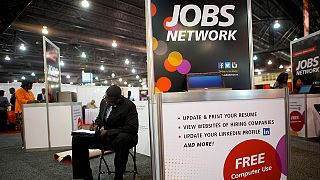 The crucial US monthly jobs numbers show employers maintained a strong pace of hiring in October and boosted wages for workers.
Payrolls were up by 161,000 and the August and September totals was revised to show 44,000 more jobs created than previously calculated.
The unemployment rate fell from 5.0 percent to 4.9 percent, in part because people dropped out of the labour force.
Wages rose from a year earlier by the most in over seven years with average hourly earnings up by 10 cents.
Election issue
The numbers were published just four days before the presidential election.
Employment has been a major campaign issue with Republican Donald Trump promising to create millions of US jobs by renegotiating international trade deals and Hillary Clinton stressing employment has risen under a Democrat president.
But economists see little impact from the report on an increasingly bitter and divisive campaign.
"There is so much noise out there right now, everyone is screaming from the rooftops. I just don't know that any particular data point is going to have a great bearing on the election, in and of itself," said Sam Bullard, senior economist at Wells Fargo Securities in Charlotte, North Carolina.
Fed on track for rate hike
The US central bank, the Federal Reserve, will also be analysing the jobs report.
The solid gains and rise in wages bolster the prospects for interest rates to go up in December.
"All in all, the data fits perfectly with a Fed hike in December," said Alan Ruskin, global co-head of FX research at Deutsche Bank in New York.
But Paul Ashworth, chief economist at Capital Economics in Toronto, warned: "The election could still derail the Fed's plans, particularly if a very close result led to one or both candidates contesting it via the courts."
The Fed left the cost of borrowing unchanged this month.
Sector by sector
Manufacturing employment fell 9,000 last month, falling for a third straight month.
Construction payrolls increased 11,000, rising for a second straight month.
Retail sector employment surprising fell 1,100 jobs, despite expectations of a jump in early holiday season hiring.
Professional and business services payrolls rose 43,000.
Temporary-help jobs, a harbinger for future hiring, increased 6,400.
Government employment rose by 19,000 jobs.