Stock markets steady despite presidential poll nervousness
Comments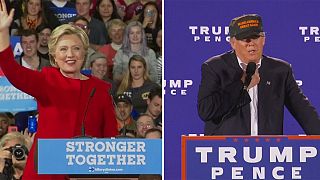 Wall Street remained nervous on Thursday about the tighter race between Democrat Hillary Clinton and Republican Donald Trump before next week's presidential election. They would prefer the certainty Clinton offers.
But US stocks steadied and the fluctuations were less pronounced, while the Mexican peso climbed – it rises and falls depending on Trump's political fortunes.
Investors got twitchy after some opinion polls had put Trump in the lead on Tuesday. But a Reuters/Ipsos daily tracking poll on Wednesday showed Clinton ahead by six percentage points among likely voters.
Traders' tensions also eased after the UK court ruling that the parliament in London has to approve a government decision to trigger Britain leaving the European Union.
European banks, which have seen their share prices slide this year, were boosted by the UK High Court ruling and after reassuring results from some top lenders.
Societe Generale was the standout – up 5.5 percent – thanks to better-than-expected earnings.
Oil prices dipped, with losses limited as an attack on a Nigerian pipeline cut the country's output even as investors remained skeptical about OPEC's planned production limit and surprised at this week's build-up in US crude inventories.