China's economic growth stable at 6.7% in third quarter
Comments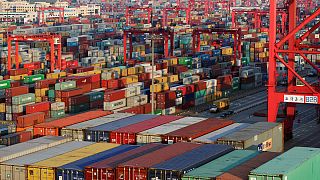 China's economy is slowly stabilising according to the latest government statistics.
Continued structural drags mean the economy is set to begin slowing again

China economist at Capital Economics
Gross domestic product rose by 6.7 percent between July and September, putting it on track to meet its official growth range of 6.5 to 7 percent.
However that growth is increasingly dependent on higher government spending and the red-hot property market, which accounts for about 15 percent of GDP.
Those factors, along with record lending by banks, have added to China's growing debt, which some economists think is at a worrying level.
Meanwhile private investment and exports remain stubbornly weak.
#China 's #GDP steady growth of 6.7% in third quarter, but growing headwinds expectedhttps://t.co/GcQq6cTw1F

— Isidre Ambrós (@iambros) October 19, 2016
Sheng Laiyun, the spokesman for China's National Bureau of Statistics, addressed moves to rebalance the economy by cutting back production in areas like steel and coal.
Sheng said: "Regional governments have reported that some companies are tempted to return to full production capacity, but I want to emphasise the central government's reforms are moving us in the right direction as we adapt to the new normal." By which he means slower, more balanced growth.
Beijing's plan is to make the economy less reliant on exports by boosting internal consumption.
That approach seems to working with retail sales up 10.7 percent in September from a year ago as new buyers furnished their homes. Subsidies also fueled strong sales of new cars.
Chinese consumers show their might…consumption is now 71% of GDP in the first 3 quarters vs 66.4% for 2015 #China

— Karen Tso (@cnbcKaren) October 19, 2016
But can we trust the numbers?
While analysts expect China to meet its growth target this year, as usual, many remain sceptical of the official statistics, especially as growth has remain unchanged for three straight quarters even as the country attempts a major economic transition.
"The official GDP figures remain too stable to tell us much about the performance of China's economy. Our own measure of economic activity suggests that growth actually picked up last quarter, though the improvement clearly won't last," Julian Evans-Pritchard, China economist at Capital Economics in Singapore wrote in an advice note to investors.
"As the boost from policy stimulus begins to wear off – probably at some point early next year – continued structural drags mean the economy is set to begin slowing again," Evans-Pritchard added.
Capital Economics' calculations suggest the economy is growing at around 5 percent.