Saudi Aramco boss warns low prices threaten future energy supplies
Comments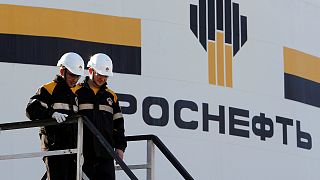 The head of the company that pumps a big percentage of the world's oil is warning lower prices are going to have a big effect on future energy supplies.
Amin Nasser, chief executive of state controlled Saudi Aramco, told the World Energy Congress in Istanbul that cash-strapped energy companies are not investing, which risks shortages.
"The oil and gas industry has been shaken by collapsed earnings, job losses and business shut downs. In fact, if the market weakness continues, we expect that around one trillion dollars in marginal resources development may be delayed or cancelled by the end of this decade," Nasser said in a speech.
Asked by reporters about Aramco's plans for an initial public offering of shares of up to five percent of the company he said: "We are optimistic. I highlighted in my remarks that the markets started to recover. We expect it to recover even more in 2017, and I think the time in 2018 will be almost right."
Saudi Aramco IPO likely in 2018, says CEO: Amin Nasser said the company plans to invest $300 billion over the… https://t.co/2Sb4BikONo

—

SICO

(@SICObahrain) October 11, 2016
At the same gathering President Vladimir Putin said on Monday that Russia is ready to join a proposed output freeze by OPEC members to support oil prices.
But on Tuesday Igor Sechin, the head of state-controlled energy giant Rosneft, told the Reuters news agency that his company will not cap oil production as part of a possible OPEC agreement.
So after #oil support from Al-Falih and Putin WECongress</a> Monday. Today Igor Sechin warns Rosneft will NOT be part of oil curb. Oh well!</p>&mdash; Steve Sedgwick (steve_sedgwick) October 11, 2016
Sechin has said Rosneft will pump more this year and that he doubts some OPEC countries, such as Iran, Saudi Arabia and Venezuela, would cut their output.
Rosneft accounts for 40 percent of Russia's crude oil output.
His comments underline how difficult it is for Russia to get its oil companies to freeze or cut output as part of a potential deal with OPEC.