Optimism rises over OPEC oil freeze deal, Russia pledges to join in
Comments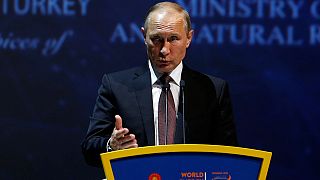 Russia has said it is ready to join a proposed freeze of oil output by OPEC members.
President Vladimir Putin, speaking at an energy conference in the Turkish city of Istanbul, said that low oil prices have led to underinvestment into the sector.
He warned that could trigger new "unpredictable jumps" in prices in the future.
Putin said: "Russia is ready to join the collective measures to limit production and calls on other oil exporting countries to do the same."
He added: "We support a recent OPEC initiative to fix production limits and hope this idea will turn into specific agreements at an OPEC meeting in November, giving a positive signal to markets and investors."
Putin did not say at what level Russia would be ready to cap its production.
Russian oil output jumped by almost four percent In September from the previous month to 11.11 million barrels a day, a new post-Soviet record-high.
Oil jumps as Putin backs output cap: Russian president will join Opec efforts to stem decline in crude price https://t.co/LTtnO7PjJj

— OrbView (@OrbView) October 10, 2016
$60 a barrel
At the same gathering, Saudi Arabia's Energy Minister Khalid al Falih said he is "optimistic" about reaching a deal at that November meeting, adding an oil price of $60 a barrel by the end of the year is possible.
On Monday benchmark Brent crude rose more than two percent to over $53 a barrel. WTI, which is the most quoted US crude was up close to three percent at more than $51 a barrel.
Al Falih + Putin = Oil Price Up pic.twitter.com/7C9aHLsrp3

— Danilo Onorino (@DaniloOnorino) October 10, 2016
Al Falih stressed OPEC needs to behave in a balanced and responsible manner and he continues to believe in its important role.
"I think, OPEC needs to make sure we don't crimp too tightly and create a shock to the market. Like I said, we want to be very responsible, if prices have dropped too low. That has an impact on investment, many companies are hurting. Many countries are hurting. That needs to be relieved. But at the same time we don't want to give the market the opposite signal and shock markets or prices because that could be harmful."
Venezuelan President Nicolas Maduro, also at the event, was equally optimistic: "At this energy congress petroleum producers, both OPEC and non-OPEC members should reach an agreement and should work for the stability of the petroleum industry. To achieve realistic and fair prices, that allow for investment to be made into the industry and for investment into new technologies, and that will allow us to set fair prices for the most important energy source of our economies and of the world – oil."