Research on everything from top bosses pay to marriage contracts wins economy prize
Comments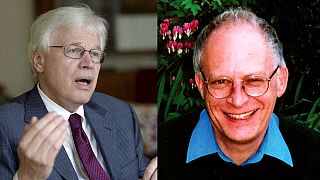 The world of contracts is in the spotlight with the announcement of the winners of the Sveriges Riksbank Prize in Economic Sciences in Memory of Alfred Nobel.
British-born Oliver Hart and Finland's Bengt Holmström were picked for their work which covers everything from how to calculate top bosses pay to marriage contracts.
Prize committee member Per Strömberg said: "This theory has really been incredibly important, not just for economics, but also for other social sciences."
He added: "Contracts are central to get different people and parties to cooperate. So when you want two people or two firms to cooperate, you need to make sure that they work in the same direction and they are both happy with the outcome. And that's really what the contract theory is about – how do you make that happen."
Risk versus performance
Holmstrom – who is based as the Massachusetts Institute of Technology – concludes high risk industries should tend to pay fixed salaries while in more stable environments they should be more based on performance.
He has argued that teachers' pay should not just be based on students' test scores, but set in a way that would also reward the teaching of harder-to-measure skills such as creativity and independent thinking.
On MIT's Twitter feed, Holmstrom said he felt grateful and lucky to have won the Nobel Economics Prize. "Research that exactly goes where you expected it to go is uninteresting, on the whole," he said.
He also spoke warmly of his fellow winner.
"Oliver Hart, I'm so glad that I won it with him, he's my closest friend here."
Bengt Holmström in interview today #NobelPrize

— The Nobel Prize (@NobelPrize) October 10, 2016
Hart is also in the US at Harvard University. His work includes the right mix of financing for mergers, and whether schools, prisons and hospitals should be in private or public ownership.
He has argued that the incentives for cost reductions in privatized services, such as private prisons in the United States, are typically too strong.
Contracts are "just fundamental to the whole idea that trade is a quid pro quo and that there are two sides to a transaction," Hart said.
Via Twitter he revealed he was worried he might have been passed over.
"I woke at about 4:40 … wondering whether it was getting too late for it to be this year…" Oliver Hart today: https://t.co/iYLEE2Gvgd

— The Nobel Prize (@NobelPrize) October 10, 2016
The award is unusual in that it is not technically a Nobel Prize, but was instead created in memory of Alfred Nobel.
However, Hart and Holmström will nonetheless receive their prize with the other Nobel laureates at a ceremony in Stockholm on December 10.