Germany's Schaeuble backs IMF over 'ultra-loose' monetary policy warning
Comments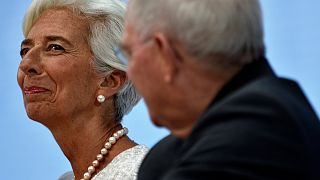 German Finance Minister Wolfgang Schaeuble has backed the International Monetary Fund's warnings about the risks to the banking system from "ultra-loose" monetary policy.
If the IMF itself is warning against the consequences of ultra-loose monetary policy I think it's a sign

German Finance Minister
At the start of the IMF and World Bank's gatherings, he welcomed IMF Managing Director Christine Lagarde speaking out against very low interest rates and money printing to stimulate economic growth.
"If the IMF itself is warning against the consequences of ultra-loose monetary policy, I think it's a sign of hope that we will take more seriously what the Bank for International Settlements is saying again, again and again," Schaeuble said.
"That two things together – the global overhang of indebtedness, private, public and company, together with an ultra-loose monetary policy – maybe is one of the risks we will have to tackle even since we have drawn all the lessons of the financial crisis 10 years ago."
Deutsche Bank dismay
He was less happy with Lagarde's comments on Deutsche Bank's troubles
She said Germany's largest lender – like many others – has to look at its business model and its long term profitability, as well as quickly reach an out-of-court settlement with US regulators over a potentially massive fine.
"A bad settlement is always better than a good trial," she told Bloomberg Television, adding that Deutsche was "not in a trial mode."
"A settlement would … deliver some certainty as to what weight the bank will have to carry and whether it matches with its provisions or not. So the sooner, the better," she added.
Deutsche Bank has to look at its business model, IMF's Christine Lagarde says https://t.co/EYmHTvbi73pic.twitter.com/9aZgVXO5HX

— Bloomberg TV (@BloombergTV) October 6, 2016
Schaeuble responded it was not the place of the IMF and other international institutions to supervise European banks.
Capital backing
German companies have rallied behind the lender, which plays a key role in financing their international operations and domestic needs.
In a source-based report, newspaper Handelsblatt said several German companies discussed an emergency plan under which they would purchase Deutsche Bank stock, in the low single-digit billions of euros, to boost its reserves. The paper added that Berlin welcomed the private-sector intervention.
And on Friday its shares finished the trading session up 0.5 percent after sources said Qatari investors who own the largest stake in Deutsche Bank do not plan to sell their shares and could consider buying more if it decides to raise capital.
Qatar's royal family is considering increasing its stake in Deutsche Bank to as much as 25%, sources say https://t.co/AfXXZqz0Zhpic.twitter.com/d26qxH4D1Y

— Bloomberg (@business) October 7, 2016