End of the road for Ford in Australia
Comments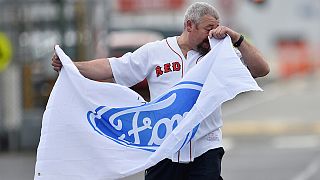 After 91 years Ford has stopped making cars in Australia. It is pulling out after the government cut subsidies to the sector.
About 600 workers are losing their jobs at the company's plants in Melbourne and Geelong in Victoria while 160 are being redeployed to design and engineering positions.
The Australian Manufacturing Workers Union's Dave Smith spoke of the workers' sadness: "There's been a lot of emotion and it's been close to coming to the surface at times but they are truly quality people that have built quality cars in this country for many, many years."
General Motor's Holden marque also plans to stop building vehicles in Australia next year, as will Toyota.
Union representative Dave Smith said: "It's a shame for Australia because I think we lose so much when we no longer have vehicle manufacturing. But, you know, that's part of history now, we move on."
It is estimated the end of car manufacturing there will cost as many as 40,000 jobs nationwide in companies that supplied parts.
The pull outs have led to heated debate over the future of the Australian economy and government's role in propping up ailing sectors.
Ford is also going to stop production in Japan and Indonesia, saying it sees "no reasonable path to profitability" in those countries.
Today we mark an end to 91 years of manufacturing in Australia. Watch as we celebrate our history and give you a glimpse of the future. pic.twitter.com/Zz1CaRWp5s

— Ford Australia (@FordAustralia) October 6, 2016