Case for US interest rate hike strengthens, says Fed's Yellen
Comments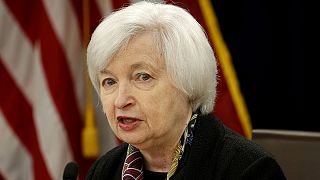 Improvements in the labour market and expectations for solid economic growth have strengthened the case for a US interest rate hike.
I believe the case for an increase in the federal funds rate has strengthened in recent months

Federal Reserve Chair
That is according to Federal Reserve Chair Janet Yellen, who has been speaking at a gathering of central bankers and academics in Jackson Hole, in Wyoming.
She did not say when a rise would happen, but her comments back up the view that it could come later this year.
"In light of the continued solid performance of the labour market and our outlook for economic activity and inflation, I believe the case for an increase in the federal funds rate has strengthened in recent months," said Yellen, adding that the Fed still thinks future rate increases should be "gradual."
YELLEN: The case to raise rates has strengthened in recent months – Business Insider https://t.co/R6agSbuOBY

— Lance Edmond (@Mrledmond) 26 August 2016
Yellen's speech comes as new data show the US economy was more sluggish that initially thought in the second quarter, with GDP expanding at a 1.1 percent annual rate.
At the same time, consumer spending – which makes up more than two-thirds of US economic activity – grew at the fastest rate since the fourth quarter of 2014.
Yellen highlighted a recent rebound in employment and said the Fed expects the economy to keep expanding.
#Yellen speech certainly sent commodities booming. Oil's up 1%, Gold's up 1%, Silver's up over 2%…. pic.twitter.com/I3LbU2EQ72

— Markets News (@newsdotmarkets) 26 August 2016
The Fed raised rates in December, its first hike in nearly a decade, but it has held off further increases so far this year due to a global growth slowdown, financial market volatility and generally tepid US inflation data.
Yellen did not lay out a clear roadmap for what the Fed needs to see to raise rates. Investors have been doubtful about the central bank's guidance, in part because its policymakers appear to be divided over whether to hike rates soon or take a more cautious approach.
"She's just kept the door open for a hike sooner rather than later," said Subadra Rajappa, an interest rate strategist at Societe Generale in Washington.