Slumping post-Brexit pound to hit Eurotunnel profit
Comments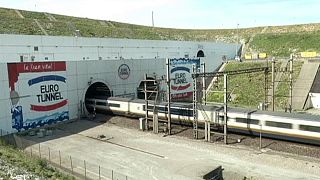 Eurotunnel has lowered its profit forecast for this year and next because the Brexit vote caused the value of the pound to drop.
The Anglo-French company's shares lost as much as a third of their value in the immediate aftermath of the Brexit vote despite offering reassurances that it would not suffer.
It has lowered its profit forecast for this year by about 4.5 percent and by 4.3 percent for 2017.
Eurotunnel said the impact of Brexit on cross-Channel transport was uncertain, but added that it does not expect any significant downturn to its activities in the short term as trading has remained "buoyant".
"Despite the financial market uncertainty generated by the United Kingdom voting to leave the European Union, the Group remains confident in the performance of its economic model and in its outlook," Chief Executive Jacques Gounon said.
Eurotunnel does not expect Brexit to have 'significant impact' : Channel Tunnel operator Eurotunnel issued a note … https://t.co/UsA6vAReDU

— Travel Weekly (@travelweekly) July 20, 2016
Eurotunnel runs shuttle service trains that carry cars, coaches and lorries under the Channel and its subsea rail link is also used by Eurostar's high-speed trains between Paris, Brussels and London.
The first half of 2016 saw a three percent decrease in Eurostar passenger traffic due to attacks in Brussels in March and rail strikes in Belgium and France, the company reported.
However, Eurotunnel enjoyed a rise in truck shuttle traffic by 10 percent in the first half of 2016, with almost 830,000 lorries transported.
CEO Gounon said: "Month after month Eurotunnel has broken traffic records, particularly for the truck shuttles. The tunnel has never been as highly utilised as it is today."