Twitter serves up tennis to attract traffic
Comments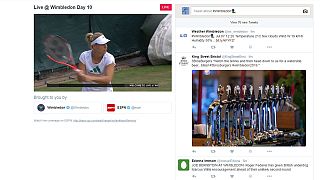 Faced with slowing growth in active users Twitter is live-streaming the Wimbledon tournament.
There was no big fanfare for the launch of the service, just a brief mention on the official Twitter account for Wimbledon.
The pictures and commentary are being provided by the ESPN TV network.
Twitter called it "an extremely early and incomplete test experience" which will be improved before being launched in its final form.
Live Wimbledon - Day 10. Watch LIVE now: <a href="https://t.co/JI7WEdvcQQ">https://t.co/JI7WEdvcQQ</a> … <a href="https://twitter.com/hashtag/Wimbledon?src=hash">#Wimbledon</a></p>&mdash; Wimbledon (Wimbledon) July 7, 2016
The social network – which recently did a deal to stream some National Football League games in the US from later this year – is hoping live sports events will lead users to spend more time on its service.