Fed due to call on interest rate hike
Comments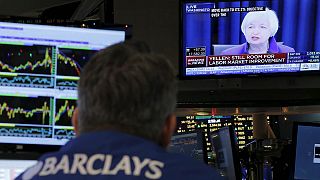 The Federal Reserve is deep in a policy meeting and it is extremely unlikely that an interest rate rise is on the cards.
However much the Federal Reserve and chair Janet Yellen would like to hike the rate
poor unemployment figures have put paid to that.
As Chair of the Federal Reserve, Janet Yellen is the #3 out of the world's #PowerWomenhttps://t.co/BOmnp6vOuapic.twitter.com/j7pikVvP2l

— Forbes (@Forbes) June 8, 2016
Mike Bailey is from FBB Capital Partners:
"At this point we think it is pretty low odds that you see a rate hike in July. We can go beyond that and look at down the road. We think you are unlikely to see a rate hike probably until after the election, basically I think the Fed is going to say ok if not this summer as you get closer to the fall it just gets a little bit dicey in terms of the election coming up."
pic of central bankers Federal Reserve last week for the <a href="https://twitter.com/hashtag/blockchain?src=hash">#blockchain</a> discussions <a href="https://twitter.com/adamludwin">adamludwin next to Janet Yellen pic.twitter.com/V1u5KkttXs

— Matt Leising (@mattleising) June 6, 2016
Despite the uncertainty American retail is faring well and the healthy domestic demand may well spur the Fed to think about a rise next month, but then there is also the Brexit vote.