Santander's Madrid HQ raided in tax evasion probe
Comments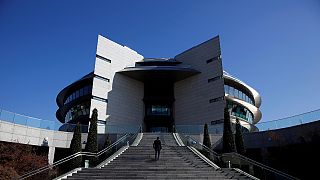 Police have raided Spanish bank Santander's headquarters in Madrid as part of an investigation into possible tax evasion.
The raid, seeking documents related to a number of accounts, was carried out on the orders of Spain's High Court which has confirmed it is looking into 40 cases.
Santander said it is collaborating with the authorities after receiving "a request for information about the movements of certain accounts between different entities".
The probe follows leaks of sensitive information in 2008 by whistleblower Herve Falciani, a former IT employee at HSBC's Swiss private bank.
Falciani's list of some 130,000 suspected tax evaders has led to investigations in France, Austria, Belgium and Argentina. Of the names on the list 659 are Spanish.
Police raid Santander's Madrid HQ in money-laundering inquiry https://t.co/U93AC1lezg

— The Guardian (@guardian) June 3, 2016
Last year Falciani was sentenced by a Swiss court in his absence to five years in prison for aggravated industrial espionage.
However, he may not serve time in Switzerland since he lives in France and there are no legal proceedings against him there.