ECB says growth prospect slightly better, but still many risks
Comments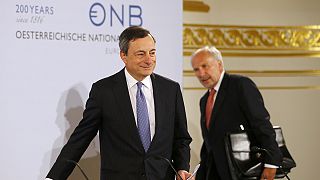 ECB President Mario Draghi said the prospects for eurozone economic growth are looking slightly better this year and it's the same story for inflation, but there are still many risks.
After a meeting of the Bank's governing council in Vienna, Draghi said: "The latest data point to ongoing growth in the second quarter, though possibly at a lower rate than in the first quarter. Looking ahead, we expect the economic recovery to proceed at a moderate but steady pace."
The Bank upgraded its 2016 eurozone growth forecast to 1.6 percent this year from the 1.4 percent it predicted in March, maintaining its forecast of 1.7 percent next year and trimming it for 2018 to 1.7 percent from an earlier 1.8 percent forecast.
It also raised its 2016 inflation forecast to 0.2 percent from 0.1 percent, citing factors including the base effect of a recent rise in oil prices.
Introductory statement Mario Draghi to the press conference https://t.co/vMCQK1S80K

—

ECB

(@ecb) June 2, 2016
There was no change in the cost of borrowing from the ECB's policymakers at their latest monthly meeting and they plan to press on with unprecedented stimulus measures – that is buying companies' bonds in the fight against deflation. That operation will start on 8 June.
Draghi once again urged eurozone governments to speed up reforms. "Economic recovery in the euro area continues to be dampened by subdued growth prospects in emerging markets, the necessary balance sheet adjustments … and a sluggish pace of implementation of structural reforms," he told reporters.
Markets didn't expect much from ECB and didn't get it https://t.co/OC317GUnDU via goldriva</a></p>&mdash; WSJ Markets (WSJmarkets) June 2, 2016
Athens disappointed
The ECB disappointed Athens by saying it will not yet allow Greek banks to borrow from it at cheap interest rates.
That is because the Greek government bonds the banks are offering as collateral for those loans are still considered to be "junk" rather than investment grade.
Draghi said the waiver for Greek banks to borrow will only come when there is more progress between the Greek government and its lenders over the bailout aid it is getting.
"The Eurogroup has asked the institutions to verify the implementation of prior actions under the supplementary MoU. And this is an ongoing discussion with the Greek government. Once the prior actions will be implemented, the governing council will take a decision leading to the reinstatement of the waiver."
Currently Greek banks are borrowing under the ECB's Emergency Liquidity Assistance programme at a higher rate of interest.
"Possibly at the next meeting of the ECB we could see a lifting of the waiver," Greek Prime Minister Alexis Tsipras told his cabinet in comments broadcast live on state TV.
Greek shares extend earlier losses with the banking stock index down 3.1 percent. The two-year Greek government bond yield rose.
Greek2y yields jump as ECB's Draghi says ECB has taken no decision on #Greece waiver. pic.twitter.com/midIF1YVOE

— Holger Zschaepitz (@Schuldensuehner) June 2, 2016
Among the risks to eurozone growth that Draghi listed was Britain leaving the European Union following this month's referendum.
Asked about that Draghi said the ECB was ready for such an eventuality but believed it was economically preferable for Britain to remain in the EU.
Draghi: The ECB has a view that the UK should remain in the EU. Both the UK and the EU benefit.

—

ECB

(@ecb) June 2, 2016