Putin and Tsipras focus on trade and investment
Comments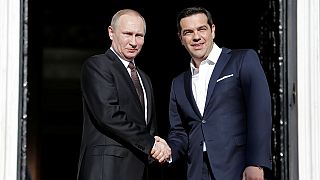 Russian President Vladimir Putin and Greek Prime Minister Alexis Tsipras, who have been meeting in Athens, are no strangers.
They met in Moscow twice last year and there was even talk of Russia floating Greece a loan which came to nothing. Putin has not been to Greece in nearly a decade.
The talks between the two leaders are expected to focus on trade and investment.
Trade between the two countries has remained depressed thanks to EU sanctions over Ukraine and the retaliatory ban by the Kremlin on EU food imports.
Greece was badly hit as 40 percent of its total exports – particularly agricultural products – went to Russia.
Oil and natural gas account for 85 percent of Russian exports to Greece.
A plan to bring Russian gas to Europe via Greece floundered when the Turkish Stream pipeline it would have connected to was shelved as relations between Moscow and Ankara deteriorated.
And Greece is now backing the Trans Adriatic Pipeline connecting to Azerbaijan, which would be a rival to Moscow proposed IGI Poseidon project which would transit through Turkey or Bulgaria, through Greece to Italy.
Putin arrives in Greece with trade and energy deals on table https://t.co/EVYOyKR339pic.twitter.com/qeb6UdXDac

— dwnews (@dwnews) May 27, 2016
Greece's economic woes present investment opportunities even with the rouble as weak as it is.
Slumping property prices mean some estate agents are now producing brochures in Russian.
And on the commercial level Athens privatisation programme means the Greek railway company Trainose and the port of Thessaloniki could be on Putin's shopping list.
Greece is also enjoying a tourism boom thanks to Russia's strained relations with Turkey and security issues in Egypt.
Russian visitors to Greece were up 500 percent in March compared with a year earlier.