Toyota invests in ride-hailing firm Uber
Comments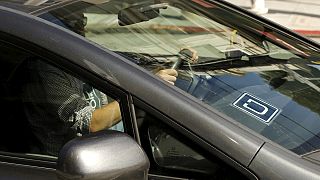 Toyota has become the latest carmaker to invest in an on-demand ride-hailing company by forging a deal with Uber.
There will be flexible vehicle leasing terms for Uber drivers for its cars and the two companies will exchange data and work together on research efforts.
Both are looking at developing self-driving cars as well as "mobility solutions" with apps for travelers to seamlessly connect to different means of transportation.
This follows General Motors investing in Lyft, Uber's main US rival, and Volkswagen putting money into a smaller ride-sharing company – Gett.
Toyota and Uber in ridesharing deal https://t.co/sAQt4mhGL6 by simongwynn</a> <a href="https://t.co/3Ak7O3tuSR">pic.twitter.com/3Ak7O3tuSR</a></p>&mdash; Campaign: Brands (MarketingUK) May 25, 2016
In addition Apple has backed the dominant Chinese ride-hailing service Didi Chuxing with a big investment.
China context
The deal is expected to help Toyota keep tabs on ride-hailing markets worldwide and has the potential to help it strengthen its position in China, where it lags Volkswagen and General Motors.
"Thinking of it in a China context is important because that's probably the fastest growing ride hailing market in the world. For Toyota to have a piece of that would be significant," said James Chao, Asia Pacific head for IHS Automotive.
Doing away with drivers would greatly reduce the cost of ride-hailing services, and Toyota could be angling to be Uber's preferred supplier of such cars in the future, Chao at IHS said.