Difficult austerity vote is key to more Greek bailout cash
Comments
By
Euronews
with
Reuters, Euronews Athens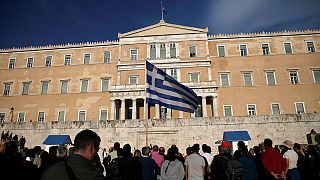 With Greece fast running out of money and loan repayment deadlines looming, the parliament is heading towards another vote on yet more austerity.
That vote – expected on Sunday – will be a major test for Prime Minister Alexis Tsipras.
His left-led government has a thin majority of 153 in the 300 seat parliament, with even some of his own party members wavering in their support for what the leadership is asking.
This latest austerity bill is aimed at raising an additional 1.8 billion euros per year.
More expensive driving, smoking, drinking, gambling and watching
It includes putting up VAT sales tax from 23 percent to 24 percent and higher duties on fuel, tobacco, alcohol, gambling and connections for the internet and cable TV.
It would also free up the sale of Greek banks' non-performing loans and detail a new fund to privatise state assets.
The eurozone finance ministers have insisted on the additional austerity measures before they will release the latest tranche of bailout money, totalling 5.4 billion euros. A meeting on Tuesday May 24 should evaluate if the Greek government has done enough to justify that.
The money would be used to repay previous loans from the International Monetary Fund and the EU as well as meet government expenses, like public workers salaries.
Primary surplus question
Still undecided is what will happen if Athens fails to reach its budget targets – specifically a primary surplus of 3.5 percent of GDP in 2018.
A primary surplus is when tax revenues exceed government spending, with interest on outstanding debt removed from the calculation.
Euronews Business correspondent Symela Touchtidou in Athens reports: "For the Greek government, hoping for a calm summer, this is the final test. Completing the evaluation of its efforts, and the disbursement of the next bailout installment are the minimum prerequisites for the Greek economy to return to growth. But there is a contradiction: the new austerity measures, especially the big tax hikes, will deprive the country of the 'oxygen' it needs to grow."
The longer term prize for Greece is debt relief, whereby it would have longer to repay the bailout money.
The eurozone finance ministers have said they will consider that once the country delivers on all reform promises under its current bailout programme.
#Greece: "If we achieve what we seek for the debt on May 24th, we will return to the markets in 2017" said #Tsipras. https://t.co/9Uf3E2pEaB

— Maxime Sbaihi (@MxSba) May 16, 2016