Russia's VTB bank returns to profit, but only just
Comments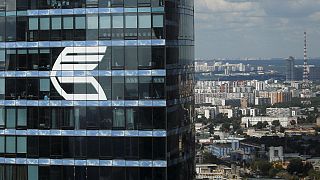 VTB, Russia's second-largest bank, made a net profit in the first quarter of just 600 million roubles (8.1 million euros).
That was much worse than analysts had forecast, but a huge improvement on the loss of 18.3 billion roubles in the same period of 2015.
Like several other large Russian lenders, VTB is under Western sanctions over Moscow's role in the Ukraine conflict.
As a result its access to international capital markets is limited.
The result shows Russia's banks still face tough operating conditions despite signs that an economic slump is beginning to ease, particularly in the service sector, although industrial production remains low.
VTB's chief executive Andrey Kostin said the results reflected "the continued stabilisation of business activity in the Russian economy as a whole" after the "volatility seen in the same period a year ago".
Bank VTBPAO : VTB Group announces IFRS results for 1Q 2016 https://t.co/p3ieY0m03w

— 4-traders.com (@ForTraders) May 16, 2016
The numbers
In the first quarter, VTB's income from interest on loans more than doubled to 98.3 billion roubles, while income from fees and commission was up 13 percent at 17.4 billion roubles.
This revenue growth led to a 31 percent growth in operating income to 111.1 billion roubles.
However, while provision for low-quality loans was down 17 percent, it remained high at 40.6 billion roubles.
with Reuters and AFP