Oil prices boosted by supply outages and deficit forecast from Goldman Sachs
Comments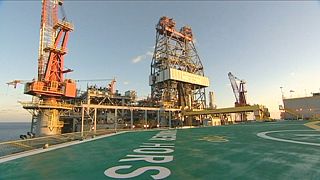 Oil prices jumped to their highest in six months after forecasters at investment bank Goldman Sachs said the world now has a deficit rather than a glut of crude, due to increasing disruptions to supplies particularly in Nigeria and stronger demand.
"The oil market has gone from nearing storage saturation to being in deficit much earlier than we expected," Goldman said.
"The market likely shifted into deficit in May … driven by both sustained strong demand as well as sharply declining production," it said, adding that it expected production declines to keep the market in deficit in the second half of 2016.
A series of pipeline bombings by radicals in Nigeria has driven its oil output to the lowest in two decades.
Violence in #Nigeria—which has aggravated an #oil-production slump—is linked to amnesty cuts, says MaplecroftRisk</a> <a href="https://t.co/Gre37Hxv19">https://t.co/Gre37Hxv19</a></p>&mdash; Oil & Gas Journal (OGJOnline) May 13, 2016
Nigeria strikes back against "Avengers" group that has been terrorizing oil companies https://t.co/mRSxiUjiZ3pic.twitter.com/HJWlQ6244x

—

VICE

News (@vicenews) May 16, 2016
But Jeremy Batstone-Carr, Chief economist at Charles Stanley, point out there are other factors that will keep prices low: "One has to say that outages and other issues associated with Nigerian production are at the margin detrimental to oil price production and therefore help at the margin in trying to address this supply and demand disequilibrium, but of course Nigeria isn't the only oil producing country.
"There is a lot of expectation that maybe Iranian oil will increase in supply, so yes when you get negative headlines such as this, it does tend to have a positive knock on effect on the oil price algorithms taking their view from the news flow. But I'm afraid to say that on a underlying basis, it's marginal and may not last."
As well as Nigeria, bankruptcies among shale oil producers in the United States and economic turmoil in Venezuela are also having an effect, but even the experts at Goldman caution that there is likely to be a surplus again in the first half of 2017.
Goldman is one of the most active banks in providing hedging services to consumers and producers as they try and even out pricing ebbs and flows and its views are also followed by a large number of investors.
The bank raised its global demand growth forecast by 200,000 barrels per day to 1.4 million barrels per day anticipating higher demand from Asia, especially China, adding to similar forecasts from others.
.GoldmanSachs</a> forecast US <a href="https://twitter.com/hashtag/oil?src=hash">#oil</a> futures could rise to $50/bbl in second half of 2016, hit $60/bbl by yearend 2017 <a href="https://t.co/OzuKPnEdPH">https://t.co/OzuKPnEdPH</a></p>&mdash; Oil & Gas Journal (OGJOnline) May 16, 2016