German industrial output down more than expected in March
Comments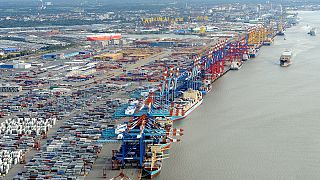 German industrial output fell more than expected in March.
It was down by 1.3 percent – the second month running that it declined.
Construction activity and manufacturing both weakened.
However for the period from January to March industrial output rose by 1.8 percent from the previous three months, which means the German economy is set for a strong first quarter of growth.
Leading economic institutes have said the economy probably expanded by around 0.6 percent on the quarter in the January-March period – twice as much as in the fourth quarter.
In the second largest eurozone economy, France, industrial output unexpectedly fell 0.3 percent in March, while in Italy – the third biggest – production was flat.
The figures were released one day after we learned that German industrial orders rose more than expected in March.