All signs point to weaker Q2 growth for the eurozone
Comments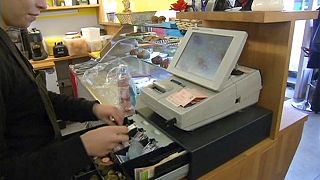 Retail sales, business surveys and European Commission forecasts are all pointing towards weaker growth of the eurozone economy in the second quarter of the year, compared with the first three months.
The European Union's statistics office says consumer spending in March was down for the first time in five months.
Sales fell by 0.5 percent from February as people bought less, particularly food, drinks and tobacco.
They were however 2.1 percent higher than in March 2015
Higher consumer spending has been driving the eurozone's recent modest recovery.
Surveys of purchasing managers at 5,000 eurozone businesses added to the concern.
The index compiled from their answers slipped slightly indicating growth, but not particularly dynamic expansion.
Latest #PMI results suggest that #eurozone remains in low gear at start of second quarter https://t.co/MUVsxuXObcpic.twitter.com/1KJfDLJTDz

— Markit Economics (@MarkitEconomics) 4 May 2016
And the European Commission in its latest economic forecasts said the currency bloc's growth is likely to be slower than previously thought.
It said is predicting subdued inflation for this year and warned of high external and internal risks to the bloc's economy.
Spring 2016 #ECForecast published – All the information (also by country) here https://t.co/oIT0QsCowDpic.twitter.com/D9KLHucuAe

— European Commission (@EU_Commission) 3 May 2016
The eurozone economy grew a faster-than-expected 0.6 percent on the quarter in the January to March period, better than the United States and Britain, but the indications are that pace is not likely to be sustained in the current quarter.