VW warns of big challenges ahead
Comments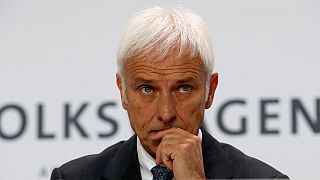 The Volkswagen group has said it is confident of posting solid growth this year despite the diesel emissions scandal.
The upbeat message came from Chief Executive Matthias Mueller at VW's annual news conference, delayed for weeks while the full financial impact of the emissions-test cheating was calculated.
The carmaker is setting aside 16.2 billion euros to pay for it.
Mueller said: "The good news is that the Volkswagen Group is robust enough to shoulder that financial burden. Just in 2015, the net liquidity for the company's automobile business rose by almost 40 percent to 24.5 billion euros."
But in its annual report, published at the same time, management admitted the scandal could cost much more than the amount set aside so far and assets might have to be sold to cover the cost.
They also warned of challenges ahead amid plans for big savings at the underperforming VW brand.
Those saving include ceasing unprofitable models, shrinking complexity in parts, streamlining model development and shedding hundreds of temporary jobs to accelerate cost savings at the VW brand.
The changes have triggered a dispute with the powerful union leaders who occupy about half the seats on VW's supervisory board.
#VWGroupCEO Müller: We will emerge from this situation stronger than before! #VWJPKhttps://t.co/vFza8wOjfG

— Volkswagen Group (@vwgroup_en) 28 April 2016